Prime Minister Theresa May's planned reshuffle of the U.K. Cabinet was thrown into chaos when two of her top ministers refused to be moved to new jobs.
Health Secretary Jeremy Hunt eventually won his argument to stay on after May tried to give him a different role but Justine Greening resigned from the Cabinet when the premier attempted to make her work and pensions secretary.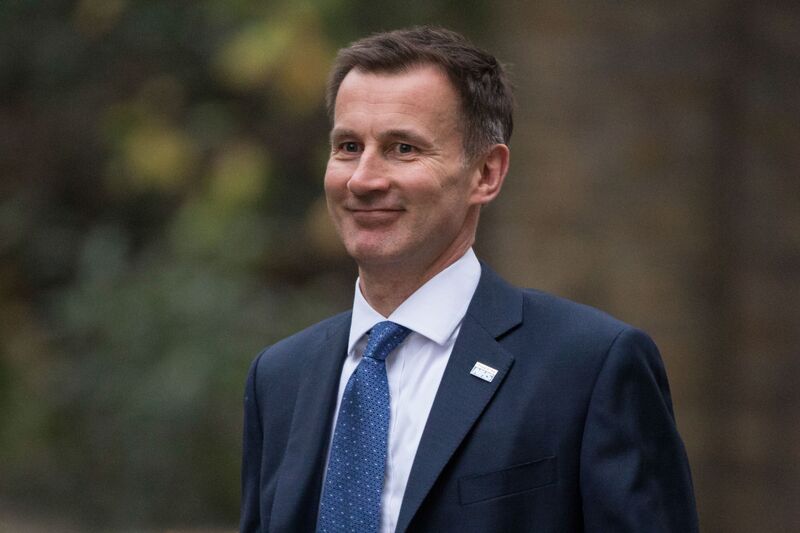 The shake-up was intended to refresh May's team at the start of a high-pressure year for Brexit. Instead, May proved unable to impose her will on some of her most senior colleagues.
We're tracking the comings and goings as ministers and members of Parliament enter May's official residence in Downing Street to find out if they're being promoted. All time stamps are the local time in London.
Justine Greening Leaves the Government (7:53 p.m.)
Former education secretary Justine Greening has left the government, May's office confirms in a statement.
May was disappointed that Greening turned down the offer of a job as work and pensions secretary but respects her decision to leave the Cabinet, a government official said. Damian Hinds was announced as her replacement.
Hinds, 47, has served as a minister in both the Treasury and the Department for Work and Pensions before his elevation to the Cabinet. He campaigned for Britain to remain in the EU.
Hunt Argued With May, Refused to Move Jobs (6:44 p.m.)
Jeremy Hunt was called in to May's office to be offered a new job after more than five years as health secretary. Instead of accepting a move, he argued strongly with the prime minister that he should be allowed to stay in his role, according to a person familiar with the matter.
After an hour inside 10 Downing Street, Hunt persuaded May to let him keep his position, the person said. She also extended his responsibilities to include senior care.
According to The Sun newspaper, Hunt had been due to move to become business secretary. Instead, May confirmed Greg Clark would remain in the role.
In other moves, Matthew Hancock is promoted to replace Karen Bradley as culture secretary. Liam Fox also remains as international trade secretary. So far, the steady streams of announcements since around noon has been of people holding onto to their jobs.
Bradley Becomes Northern Ireland Secretary (5:48 p.m.)
Karen Bradley leaves her role overseeing the media industry, arts and sports to become Northern Ireland Secretary. She fills the gap left by James Brokenshire, who stepped aside for health reasons (see earlier).
It's a key role for both Brexit and the stability of May's minority government as it will involve negotiations over the Irish border and devolved government with the Democratic Unionist Party, whose lawmakers are needed for May to get legislation through the House of Commons. The choice of Bradley shows May's reliance on politicians she knows and trusts from her own past experience. Like Brokenshire, Bradley worked closely with May at the Home Office.
Clark Keeps Business Brief, Hunt Stays at Health (5:25 p.m.)
Greg Clark will remain as business secretary while Jeremy Hunt — who'd been tipped to replace him — keeps his job as health secretary, with an extra focus on social care for older people.
David Gauke, who was only work and pensions secretary for seven months, moves to replace Lidington as justice secretary.
Lidington to Act as May's Deputy after Reshuffle (4:30 p.m.)
David Lidington's role as Cabinet Office minister, chairing key Brexit committees, will give him more clout than other lawmakers who have had the role, but he won't have the official title of First Secretary of State. He will stand in for May at prime minister's questions, according to May's spokesman James Slack.
Johnson Stays as Foreign Secretary (3:14 p.m.)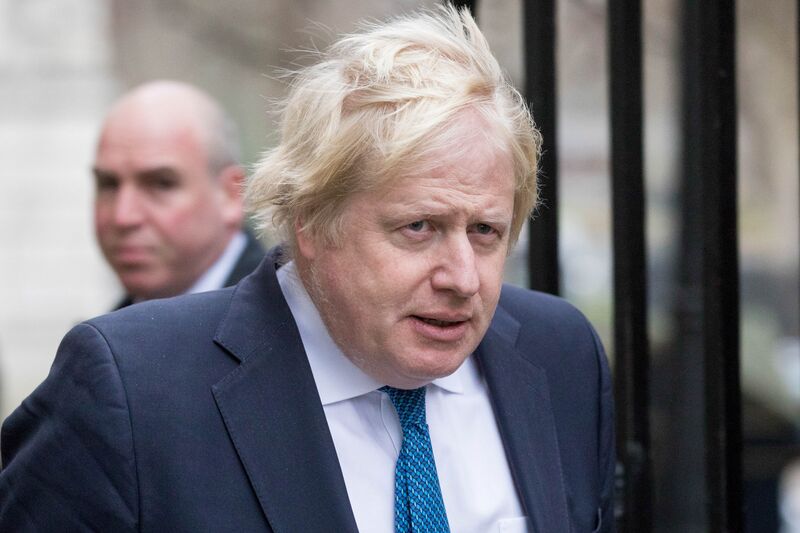 Boris Johnson stays on as Foreign Secretary, as widely predicted. Johnson, who led the official campaign to take Britain out of the EU in the 2016 referendum, is seen as May's biggest rival inside the Cabinet. Despite causing May trouble on Brexit policy in recent months — prompting calls for his demotion — Johnson gets to keep his job.
In one minor change, Sajid Javid, previously the secretary of state for "communities and local government", now has "housing" added to his job title. It's a signal that May wants to underline her commitment to solving the U.K.'s housing shortage.
For younger voters, trying to get on the property ladder was seen as a key concern at last year's general election.
David Davis Stays as Brexit Secretary (2:37 p.m.)
David Davis keeps the job he's held since it was created in the aftermath of the U.K.'s 2016 vote to leave the European Union. It was expected that he would stay in place, and May is confirming she wants stability at the top of her negotiating team as Brexit talks enter their most pressurized period this year.
May Keeps Rudd and Hammond in Place (1:58 p.m.)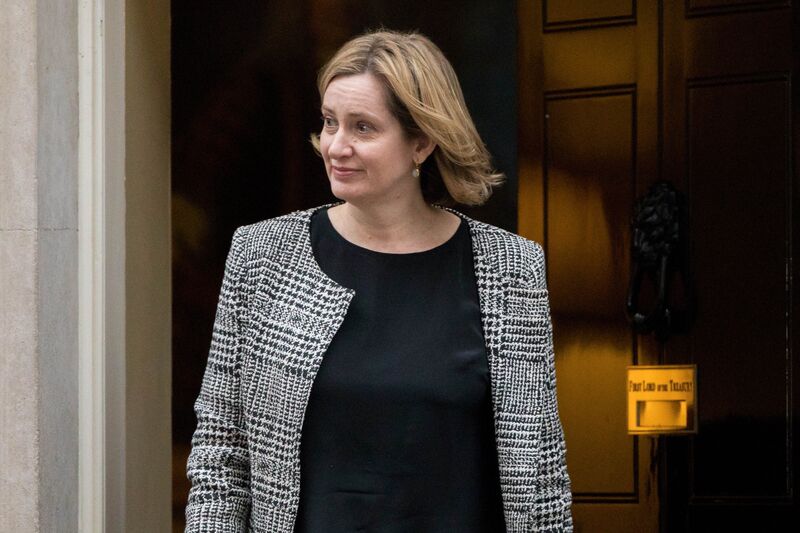 May's office confirms Amber Rudd retains her Cabinet job as Home Secretary. As one of the so-called great offices of state, May retains a key ally in a top position. It was announced later that Philip Hammond, the chancellor of the exchequer, is also staying put. He and Rudd represent the most high-ranking EU-friendly voices in government.
May Moves Lidington to Cabinet Office Role (1:55 p.m.)
May's office announces David Lidington will take on the role of Cabinet Office minister. The job involves coordinating work across the government on a variety of policy issues.
So far, he has not been given the additional title of "first secretary of state" — effectively May's deputy leader. This role was previously held by Lidington's predecessor at the Cabinet Office, Damian Green.
Green was fired in December after issuing misleading statements about porn on his office computers. After he left, Government officials said May could decide not to appoint a new first secretary of state at all.
May Steps Into Downing Street For Unusual Photo Op (1:17 p.m.)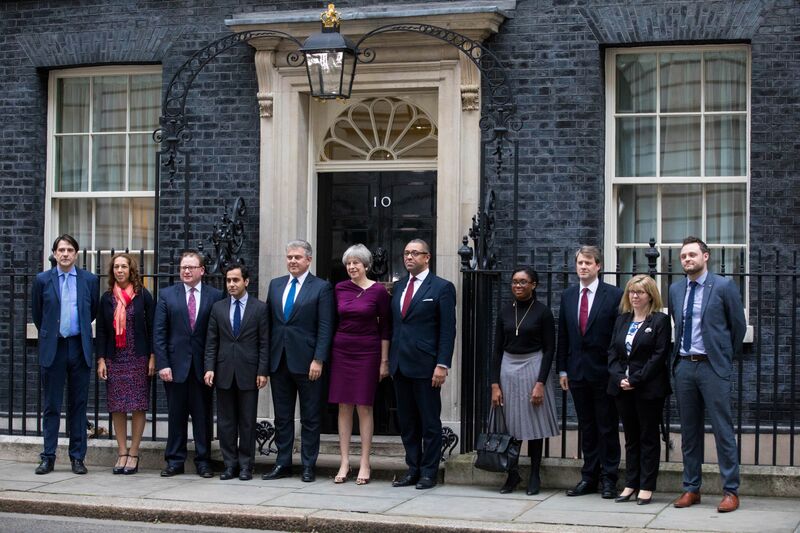 May takes the unusual step of posing for a photo mid-reshuffle with an array of junior members of the Tory party chairman's team, probably to highlight the mix of genders and ethnic backgrounds they represent.
James Cleverly becomes Brandon Lewis's deputy.
Kemi Badenoch — a rising star under 40 born to parents of Nigerian origin — becomes vice chair of the party along with Maria Caulfield, James Morris, Rehman Chishti, Andrew Jones, Ben Bradley, Marcus Jones and Helen Grant. Badenoch specifically is a new lawmaker who introduced May at the Conservative Party conferences and is an avowed Brexit supporter.
May Makes Lewis Conservative Party Chairman (12:50 p.m)
May's office confirms Brandon Lewis becomes Chairman of the Conservative Party and as a minister without portfolio. He replaces Patrick McLoughlin, who has been at the front-line of Tory party politics since Margaret Thatcher's time.
A popular figure within the party, he will have to prepare the party for the next election — scheduled for 2022 — and work out how to tackle the impressive organizational power of Momentum, the pressure group which backs Labour's leader Jeremy Corbyn.
Following a breakthrough in Brexit negotiations late last year, May starts 2018 in a stronger position than she has enjoyed any time since her disastrous general election performance, which saw the Tories lose their Parliamentary majority.
Even so, as Brexit continues to dominate British politics, May must strike a delicate balance by maintaining equal numbers of euroskeptics alongside those advocating for close ties to the European Union.
Brandon campaigned against the U.K. leaving the EU, subsequently accepting the result of the 2016 referendum.
Meanwhile, we analyzed what the unexpected departure of the experienced James Brokenshire as Northern Ireland secretary could mean for Brexit given that the border issue is one of the trickiest in negotiations. Read about it here.
Brandon Lewis Walks into 10 Downing Street (12:06 p.m.)
While no official announcement has been made yet, Immigration Minister Brandon Lewis was seen entering 10 Downing Street in a sign he's up for a bigger job.
Before entering Parliament in 2010, 46-year-old Lewis was a barrister and director of a company providing fee-paying primary schools in Essex, east of London. Married with two children, Lewis is a prolific tweeter, often referencing his interest in triathlons and his black Labrador, Buzz.
Earlier:

Northern Irish Secretary James Brokenshire resigned on health grounds. In a letter to May distributed to the media he informed the prime minister that he has a small lesion in his right lung that needs to be removed. His recovery is expected to take several weeks.
Background:
Analysis on what this means for May can be found here.
In Brussels, Nigel Farage crossed swords on Monday with one of his main EU adversaries, Michel Barnier. It was an interesting exchange of words.
The Telegraph reported one of the more interesting appointments might be the creation of a Cabinet position for a so-called no-deal Brexit minister who will work next to Brexit Secretary David Davis.
Read more: http://www.bloomberg.com/news/articles/2018-01-08/may-kicked-off-overhaul-of-cabinet-ahead-of-critical-brexit-year
Is Your Body Acidic?
Discover How To Alkalize Your Body & Regain Your Health
Click Here To Discover How To Regain Your Health With Alkaline Diet